Thanks to her exceptional mission, our graduate student, Piroska Pazaurek, has been appointed Honorary Consul of Hungary in Daytona Beach, Central Florida for strengthening Hungarian identity and culture!
Congratulations!
This article is based on the article written by Péter Gallai íin the local newspaper Dunaújvárosi Hírlap (LINK)
"In today's globalized world, it is increasingly important to cultivate roots, especially if it serves to preserve the national consciousness and culture of the Hungarian diaspora, complemented by the organization of economic relations." This exemplary voluntary work, is carried out in the US by Piroska Pazaurek, a successful business woman living in Florida. Following her mission Piroska was appointed Honorary Consul of Hungary last year.
The lady who was born in Kaposvár came to study in Dunaújváros, at the College of Dunaújváros from Dunaszekcső due to an administrative error in the late 90's, for which she is still grateful, as she was able to meet people who inspired her and shaped her character today. Nor is it incidental that she met her later husband here as well.
"As I always loved to do something for the community, I was elected chairman of the Student Union institution at the age of eighteen, and later I joined the national organization as well. I graduated as a technical manager in 2001, later I became a marketing manager of the Hungarian Football Association. Besides, I was asked to work on the new management of EFOTT (National Tourism Meeting of Students and Colleges), for example, the current logo and image of the festival are all my invention. Since I can thank Dunaújváros a lot and even more to the university, I successfully lobbied for the festival to be held here in 2008, which ended with a peak of almost 60,000 spectators! The modern EFOTT actually started on Szalki Island, which we can be proud of, and I am glad that DUDIK later grew up as a result."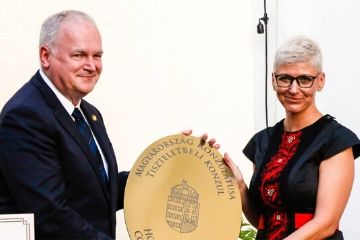 Later she had been offered a full time job at the United States as a result of what they set out on the road with her husband and their two-year-old son. First they lived in Colombus and then after the second big opportunity came they moved to Daytona Beach, Florida where she etablished her own marketing agency. At the same time she immediately sought for the local Hungarian organizations.
In order to get Hungarians to be known better in the American community, she became an "ambassador" of the Chamber of Commerce, then joined the Rotary Club and became a board member of one of Florida's largest NGO organizations. She organizes ceremonies, participates in memorial days, cultural and charitable programs. In the meantime, Piroska also founded a non-profit organization called HungarianHub with which she launched the startup of Hungarians living in the US. The goal was to gather all verified information about communities, businesses, events in one place.
From here, how did the road lead to the honorary consular title? Dr. László Szabó, Ambassador of Hungary visited them and as long as he made sure what kind of hard work is she doing and what a big amount of energy she puts into this activity he offered the position, which was a great honor for Piroska. But those who think it's some sort of "showcase office," they are wrong. She had to go through a one-year-long serious procedure before she could get the position. On the one hand, her identity was examined in Hungary, on the other hand, she was thoroughly screened by the US authorities, and her appointment was only then approved by the US government. "In her position, she can certify various documents, she can help with passport matters, and we also dedicate a very rich task to her in business", said Dr. László Szabó.
Piroska remembers on he rappintment like this: - It was an unspeakable feeling. I represented thousands of students during my college years, and now I have to take responsibility for ten-thousands of people in the area, to represent them. In the spring, I immediately got into deep water, as I helped hundreds of our compatriots stranded outside during the coronavirus pandemic to get home with special flights provided by the Hungarian government. They can't believe what a huge job it meant in the background. In addition to consular affairs, it is also very important to strengthen economic relations. As part of this, we have now established the Hungarian Chamber of Commerce in Florida, of which I became the Vice President. We want to "build bridges" to Hungarian companies, investors and American companies towards Hungary, there is a huge potential in it.
For Piroska, Dunaújváros still plays an important role:
"When I get to the river, I feel like I'm really at home."