Communication and Media Science BA
The Communication and Media Science BA study program, run by the Institute for Social Sciences at the University of Dunaújváros, welcomes students interested in the world of the media with a specialization in Media Informatics, and an eventful student life in a rich intercultural environment.
During their university studies we provide our students with a practice-oriented training program which is based on a thorough theoretical foundation. Therefore, students are given the opportunity to apply the various theoretical methods in real-life situations, such as producing TV programs from the very first semester.
We welcome our future students with a 200-m2 studio and equipment required for professional TV production, such as full HD multi-camera recording and post-production activities. Students are involved in various tasks of TV editing as part of their studies. During their internship they can improve their technical competence in a real professional environment (TV stations), work for our communication partners and we also publish their workpieces, their films.
Besides the studio and several sports facilities, student research centres provide regular opportunities for students to spend their free time actively. They organise professional lectures, trainings and field trips, which not only extend students' education and lay the foundation of their professional experience, but also offer opportunities for enhancing friendships over continents.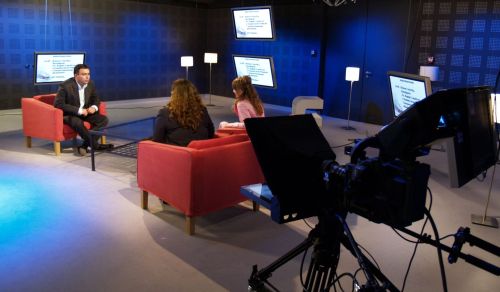 Students' opinion
"Choosing University of Dunaújváros has been a turning point in my life. I recommend UOD not only to because you can get a competitive degree there, but also because you will meet students from different countries and different cultures. I feel my dream already come true. Meeting students from Portugal, Brazil, Spain, Georgia and Libya was awesome! Thank you UOD!"
Karwan Hussein Saed (36)
Stipendium Hungaricum student from Kurdistan
"I would like to recommend Communication and Media BA because it is linked with the current technological era. The university also have many programs which improves your knowledge and skills in this area. I also value the teaching methods here at UoD, because it is very understandable and ensures that students do not struggle with applying the training and information we get in our studies.

What I like best in studying at UOD is the possibility to meet people from different cultures, to be part of the UoD family. We learn different things from each other and we are able to influence each other in a positive way through interaction and socialization."
Tawanda Masaka (20)
From Zimbabwe