The University of Dunaújváros and the Rusatom International Network signed an agreement on the 15 April 2019 at the XI International Forum Atomexpo held in Sochi.
 On 15th April  International Organization of Rosatom, the Rusatom International Network and the University of Dunaújváros, established a basis for cooperation between the two parties in the field of scientific training by singning a Memorandum of Understanding. On the part of Rusatom International Network, the document was signed by the President of the company Alexander Merten, on the Hungarian side – the rector of the University Dr. István András.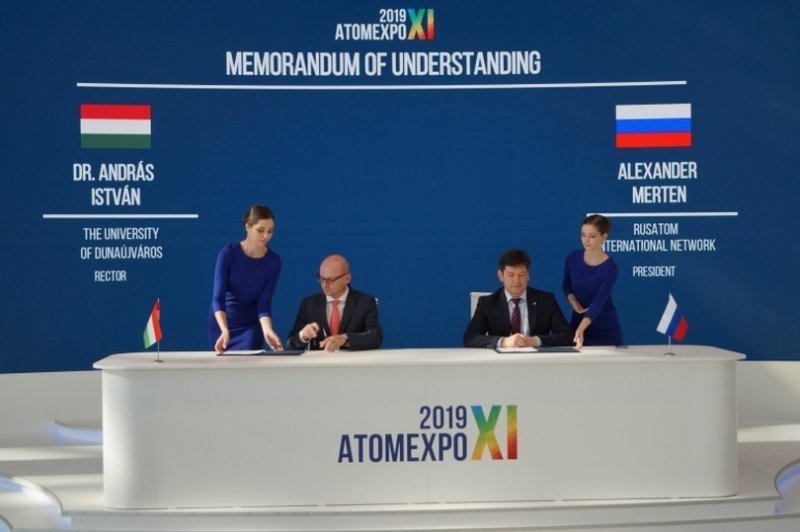 Photo: Zsolt Hárfás
The document defines the basis for cooperation between the parties for future joint projects in the field of science and education, including the organization and holding of lectures, educational seminars, publication of joint educational materials, initiation of student exchange programs with Russian technical universities and other areas. The parties also agreed to examine the possibility of launching a program for training nuclear industry professionals at the University of Dunaújváros.
"The signing of the Memorandum is an important stage in the development of our cooperation. University of Dunaújváros and Rosatom have a huge theoretical and practical basis, for example, in the field of material science and high-tech welding. This experience should be applied in practice", – said Istvan Andras.
At the Atomexpo 2019 event a key agreement has been signed between the MVM Zrt., Rusatom Service Rt., a member company of the Russian State Atomic Energy Corporation ROSATOM. The parties agreed to establish a joint venture in which both founders have 50-50 percent ownership. The company will support establishment of both atomic and conventional thermal power plants, furthermore it will provide other maintenance services as well.